Here is the Music Player. You need to installl flash player to show this cool thing!
He's only 22 years-old, but to Ethiopia's Ibrahim Jeilan his gold medal in last night's 10,000m was a long time coming.
Back in 2008, Jeilan began to demonstrate his true class.  He won the junior title at the IAAF World Cross Country Championships in Edinburgh, Scotland, and clocked 27:13.85 in a special 10,000m race at the Prefontaine Classic in Eugene, Oregon, beaten only by Kenenisa Bekele.  Jeilan thought that performance was good enough to put him on Ethiopia's team for the Beijing Olympic Games.  Instead, he was selected for the IAAF World Junior Championships team in Bydgoszcz, Poland. He would win the bronze medal there, but that wasn't the same as running in the Olympics.
For the last two years I was in the national team, but they didn't let me go to Olympic Games," Jeilan explained last night.  "I felt very angry at the time."
Jeilan also thought he should have been selected for the 2009 IAAF World Championships the following year, but was again passed over.  He ended up running road races in America that summer, instead."So, I was very angry I couldn't (run in Berlin)," Jeilan said.  "So, I go to Japan to prepare well there.
The wife and three children of fugitive Libyan leader Muammar Gaddafi are in Algeria, Algerian officials say.A foreign ministry statement said Col Gaddafi's wife Safia, daughter Ayesha and sons Muhammad and Hannibal left Libya early on Monday.Algeria's UN ambassador said they were received on humanitarian grounds.Libya's rebels said sheltering Gaddafi family members was an act of aggression, and called for their extradition.
Col Gaddafi's whereabouts are unknown.
የአፍሪካ አንድነት ድርጅት ሲቋቋም ዓላማው የአፍሪካ አገሮችን ነፃነት እውን ለማድረግ፣ አፍሪካውያን እንዲተባበሩ ለማስቻልና ከነፃነት ባሻገርም አፍሪካውያን የአፍሪካን ችግር ለመፍታት በጋራ እንዲንቀሳቀሱ ለማድረግ ነው፡፡የአፍሪካ አንድነት ድርጅትም ይባል፣ በአዲሱ ስሙ የአፍሪካ ኅብረት ብለንም እንጥራው ዓላማው ይኸው ነው፡፡በተጨባጭ የአፍሪካ ኅብረት ወቅታዊ እንቅስቃሴን ስናይና ስንገመግም ግን እኛ አፍሪካውያን የሚሰማን ምንድን ነው? ኩራት ወይስ ኀፍረት?በአይቮሪኮስት ‹‹ከምርጫው›› በኋላ በተከሠተው ሁኔታ ሕዝብ እያለቀ ነበር፡፡ ሥልጣን ልቀቅ አለቅም በሚል ጉዳይ በእንደዚህ ዓይነት ሁኔታ ፈረንሳይ ወታደሮቿን አስገብታ የማረጋጋት እንቅስቃሴ አደርጋለሁ ትል ነበር፡፡ የአፍሪካ ኅብረትስ ምን አለ? ምን አደረገ? ያደረገው ነገር ካለስ የሚያኮራ ወይስ የሚያስነውር?በሶማሊያ በአሁኑ ጊዜ ሕዝብ በረሃብ እያለቀ ነው፡፡ በአጭር ጊዜ ውስጥ ሠላሳ ሺሕ ሕፃናት ያለቁበትና የረገፉበት ሁኔታ ተስተውሏል፡፡ አንዲት እናት በአንድ ቀን አራት ሕፃን ልጆቿን ያጣችበትን ሁኔታ አፍሪካ አይታለች፡፡ አሁንም ያለው ስደት፣ አሁንም ያለው እልቂት ነው፡፡የአፍሪካ ኅብረት ምን እያለ ነው? ምንስ እያደረገ ነው? አፍሪካውያንና የአፍሪካ ኅብረት ዝም ብለው የቱርክ መሪዎች ግን ሞቃዲሾ ገብተው ሁኔታውን ሲያዩና ዕርዳታ ሲሰጡ እየተመለከትን ነው፡፡ አፍሪካኅብረትስ? አፍሪካውያንስ?የአፍሪካ ኅብረት በሶማሊያው ረሃብ ላይ እየወሰደ ስላለው ተጨባጭ ዕርምጃ እንኩራ ወይስ እንፈር?እኛ ኢትዮጵያውያንስ እንደ ኢትዮጵያዊነታችንና እንደአፍሪካዊነታችን ለተራበው የሶማሊያ ሕዝብ የሚገባንን እያደረግን ነውን? ረሃብና እልቂት ምን እንደሚመስል እኛ ኢትዮጵያውያን ከማንም በላይ እናውቀዋለን፡፡ በሶማሊያው እልቂት ምን ያህል ተሰምቶናል? ምን ያህልስ ደንግጠናል? ምን ያህል ያቅማችንን ያህል እንኳ ተንቀሳቅሰናል?ያለውን የፖለቲካና የጸጥታ ችግር ረስተነው አይደለም፡፡ ግን ምንም ነገር ላለመርዳት በቂና ሙሉ ምክንያት ሊሆን አይችልም፡፡ አፍሪካውያን ምን እያደረጉ ናቸው? ስንል በቅድሚያ ጐረቤትና አንድ ሕዝብ የሆነው ኢትዮጵያዊ ምን እያገዘ ነው ብሎ መጠየቅ ተገቢ ነው፡፡ የራሳችን ችግርና ረሃብ ቢኖርብንም ሌላውን ትንሽም ብትሆን ላለመርዳት ሽፋን አይሆንልንም፡፡ሌላው በአፍሪካዊነታችን የአፍሪካ ኅብረትን የምንጠይቅበት አጀንዳ የሊቢያ ጉዳይ ነው፡፡ የሙዓመር ጋዳፊ ተቃዋሚዎች የሊቢያ ዋና ከተማ ትሪፖሊን እየተቆጣጠሩ ናቸው፡፡ ሕይወት እየጠፋ ነው፡፡ የተስፋ ብልጭታም ለሊቢያ ሕዝብ እየፈነጠቀ ነው፡፡ነገር ግን በሊቢያ ጉዳይም እየተንቀሳቀሱም እየተናገሩም ያሉት አሜሪካና አውሮፓ በተለይም የኔቶ አገሮች ናቸው፡፡ እነሱ ለምን ተንቀሳቀሱ፣ ለምን ተናገሩ አንልም፡፡ የአፍሪካ መሪዎች ግን በአፍሪካዊት አገር ጉዳይ ምን እየተናገሩና ምን እንቅስቃሴ እያደረጉ ነው? የሚያሳፍር ወይስ የሚያኮራ?የአፍሪካ ኅብረት በሊቢያ ጉዳይ ሊያፍር ይገባዋል፡፡ ሊያፍር የሚገባው ግን በሰሞኑ ይህን አለመናገሩ ወይም ያንን አለመተግበሩ ብቻ አይደለም፡፡ እንደ ሙዓመር ጋዳፊ ዓይነት መሪዎች በአፍሪካ መኖራቸውና የአፍሪካ ኅብረት አባልና አባል መሆናቸውም ሊያሳፍረን ይገባል፡፡ሊቢያ የዘይት ሀብት ቢኖራትም በቤተሰብ የምትተዳደር አገር፣ ተቋማት የሌላት አገር፣ ኋላ ቀር አገር ናት፡፡ አሁንም የዴሞክራሲና የሰብዓዊ መብት አጀንዳ የራቃትና መሪዋ ሕዝብን አይጥና ተምች እያለ የሚሰድብበት አገር ናት፡፡ሆኖም ግን የዘይት መዓት ገንዘብ ስለነበረ ጋዳፊ የአፍሪካ መሪዎችን በጉቦ የሚገዛበት ሁኔታ ነበር፡፡ ‹‹ንጉሥ ነገሥት ነኝ›› ሲሉ ‹‹አዎን ንጉሠ ነገሥት ናቸው›› የሚሉ የአፍሪካ መሪዎች አሉ፡፡ አፍሪካን ልምራ ሲሉ አዎን ጋዳፊ ይምሩን የሚሉ ነበሩ፡፡ የአፍሪካ ጽሕፈት ቤት ትሪፖሊ ይሁን ሲሉ አዎን ትሪፖሊ ይሁን የሚሉ ነበሩ፡፡ ባጭሩ ከጋዳፊ ምጽዋት የሚቀበሉ የአፍሪካ መሪዎች ነበሩ፡፡ ጥገኞች!እንደነሙዓመር ጋዳፊ ዓይነቱ መሪዎች ያቀፈና በነጋዳፊ ጉቦ የሚንቀሳቀሱ መሪዎች የያዘ የአፍሪካ ኅብረት የሚፈጥርብን ስሜት ኩራት ወይስ ኀፍረት?የአፍሪካ ኅብረት ራሱን መፈተሽና መገምገም አለበት፡፡ ለዴሞክራሲ፣ ለፍትሕ፣ ለሰብዓዊ መብት፣ ለፕሬስ ነፃነት፣ ለትክክለኛ ምርጫ፣ ለሰላምና መረጋጋት፣ ለብዙኀን ድምፅ የቆመ ኅብረት መሆን አለበት፡፡በአፍሪካ አገር ጉዳይ አሜሪካ፣ አውሮፓ፣ እስያና ላቲን አሜሪካ አያገባችሁም አንልም፡፡ ኦባማ፣ ካሜሩንና ሳርኮዚ ለምን ተናገራችሁ አንልም፡፡ የዓለም አካል ስለሆነች ስለአፍሪካዊት አገር መናገር ይገባቸዋልና፡፡ አጽንዖት ሰጥተን የምንናገረው፣ በአፍሪካ አገሮች ጉዳይ የአፍሪካ ኅብረት ግልጽና ቀልጣፋ፣ ጠንካራና መፍትሔ የሚያሳይ እንቅስቃሴ ማድረግ አለበት፤ አቋምም መውሰድ አለበት የሚለውን ነው፡፡ አፍሪካ ስትቸገር፣ ጠንካራና ግልጽ፣ ወቅታዊም አቋምና ተግባር በማይወስድ የአፍሪካ ኅብረት አፍሪካውያን የሚሰማን ስሜት ምንድን ነው?እፍረት !!!
Ethiopia on Wednesday recognized Libya's rebel National Transitional Council as the legitimate authority of the strife-torn north African country and urged the African Union to do the same."The recent unfolding events in Libya have amply demonstrated that the National Transition Council is in the control of the greater part of Libya," government spokesperson Dina Mufti told reporters.Dina made the comments at a joint press briefing by Ethiopia's Foreign Affairs Minister Hailemariam Desalegn and his Nigerian counterpart Olugbenga Ashiru, whose country recognized the rebels' authority Tuesday."(We) have decided to jointly recognize the NTCas the interim legitimate authority in Libya," Dina said.In a joint statement, the ministers also called on the African Union to recognize the NTC as the official Libyan leaders.The pan-African bloc has still not recognized the NTC even after the 42-year-old regime of Libyan strongman Moammar Qaddafi has nearly been brought down by the rebels."We ask the African Union and its members to be consistent by extending to the NTC the type of support and recognition that was extended to Tunisia and Egypt," the statement said.However, Ashiru said the fate of Qaddafi rests with Libyan people and not the international community."This should be a matter for the people of Libya to decide, I don't think its proper for anybody to tell them how they want to proceed but all we will ask for is that … justice must be done," Ashiru said.
An AU ad-hoc committee on Libya will meet on Thursday at the bloc's Addis Ababa headquarters to discuss the North African country's crisis ahead of talks by heads of state of AU's Peace and Security Council.
Here is the Music Player. You need to installl flash player to show this cool thing!
Six months and more than 17,000 air sorties after it began,NATO's Operation Unified Protector in the skies over Libya grinds on.What was envisaged in March as a rapid engagement to prevent Moammar Gadhafi's forces from razing Benghazi to the ground has evolved into a long slog. And increasingly NATO operations have dovetailed with those of the rebels — with the aim of making pro-Gadhafi forces incapable of offensive action.The initial mandate set out by the United Nations Security Council resolution 1973 was to protect civilians under threat or attack, to enforce an arms embargo on the country and implement a no-fly zone."What was initially supposed to be a neutral intervention to protect civilians that were threatened specifically in Benghazi has morphed into being largely a one-sided affair to support the Libyan rebel force to overthrow Gadhafi," says Micah Zenko of the Council on Foreign Relations.Throughout the conflict NATO has continued to insist that all its actions are aimed at protecting civilians from pro-Gadhafi forces, and that it has not "taken sides." On Thursday, the Royal Air Force spoke of "precision strikes on former regime facilities at Sabratah [west of Tripoli], including a commando base which had been used by Colonel Gadhafi's men to launch numerous reprisals against the local people."
ADDIS ABABA (AFP) – Two Swedish journalists arrested in Ethiopia appeared in court this week, but will remain in detention until September 14 while a police probe continues, a Swedish official said Friday."They have once again been kept in custody by the judge for another 28 days and that is to prolong the police investigation," Swedish foreign ministry spokesman Anders Jorle told AFP by phone from Stockholm.Photographer Johan Persson and reporter Martin Schibbye appeared in court on Wednesday, but no formal charges have been levelled against them since their July 1 arrest in the town of Jijiga near the Somali border.They were arrested while embedded with rebels of the Ogaden National Liberation Front, opposed to the Ethiopian government. Fighting broke out between the rebels and Ethiopian troops, killing 15 and injuring six, including the journalists.Jorle said the journalists were detained because they refused to show their passports to a border guard when entering Ethiopia."They entered Ethiopia in an illegal way and (the authorities) are investigating other possible violations against Ethiopian law," Jorle said.The journalists said they were not being mistreated and have had weekly contact with Swedish embassy staff in Addis Ababa, Jorle added.Press freedom watchdog Committee to Protect Journalists condemned the arrests of the journalists last month and called for their release."These journalists should not be detained for seeking to cover an under-reported story," CPJ's Africa consultant Tom Rhodes said in a statement.Ethiopia is one of Africa's most restrictive countries for media, according to the watchdog.Earlier this year, two local journalists were arrested for suspected "terrorist activities" along with several opposition members.
The Washington Post reports that a 14-year-old German with Ethio­pian roots and a U.S. green card might have a future in the English Premier League. The paper said Gedion Zelalem has trained with Arsenal for 10 days this summer and the team has plans to have Gedion join the team full time, when he turns 16 in 2013.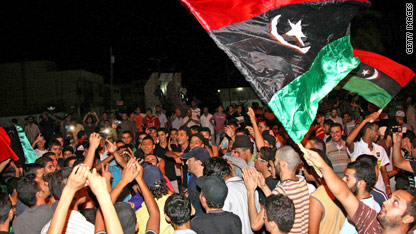 Tripoli, Libya - Six months after a ragtag group of poorly trained rebels set out to topple the Libyan regime, the fighters appeared Monday to be on the brink of ending Moammar Gadhafi's 42-year rule.The holdout now: A barrage of clashes with Gadhafi forces on his home turf, Tripoli."A great majority of the capital of Tripoli is under freedom fighters' control," said Guma El-Gamaty, the Britain-based coordinator for the rebels' Transitional National Council.But Gadhafi's forces remained in control of at least three parts of the city — a hospital, a military barracks and Rixos hotel where international journalists are staying.
A Libyan government official, who asked not to be named, conceded that the regime had lost control of some parts of the capital.